Posts for: June, 2020
By John Chaney, D.D.S.
June 20, 2020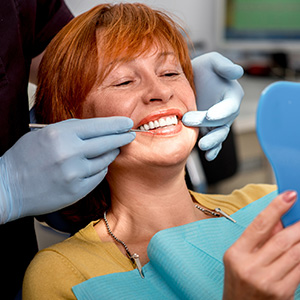 Dental implants aren't simply prosthetic teeth, but rather an innovative system that restores both smile appearance and dental function. And while an implant can indeed replace a single tooth, they can do so much more. Integrated with removable dentures or a fixed bridge, they provide a secure solution to multiple missing teeth.
Implants essentially replace a missing tooth's root, the basis for their lifelikeness and functionality. As such, they're also the most sophisticated restoration used today, requiring a high degree of technical and aesthetic skill to place them properly. In reality, implantation is more a process than a procedure.
If you're considering implants, that process begins with a comprehensive dental exam. During the exam, we'll assess the exact condition of your oral and facial structures like the length of remaining teeth, your bite and jaw dimensions. We'll use this information to plan the type and placement of your implants. The exam may also reveal problems like bone loss that might postpone your implants or suggest another form of restoration.
Using digital technology, we then locate the exact positions for your implants on the jaw to ensure the best outcome. This often results in the creation of a surgical guide, a plastic template placed over the jaw that accurately pinpoints the locations for the drilling sequence during implant surgery.
In most cases once the implants are surgically installed, gum tissue may be sutured over the implant to protect it while it integrates with the bone. In some cases, though, a visible crown may be placed immediately, so the patient can enjoy a tooth-filled smile the same day. This immediate crown, though, is temporary and will be replaced with a more durable, permanent one in a few months.
During this interim, the titanium in the implant post will attract bone cell growth, which will build up on the implant surface. This increased bone contact will help secure the implant fully in the jaw, giving the implant its signature durability.
Once the integration is complete, the permanent crown is affixed to the implant (or implants in the case of a fixed or removable dental appliance). It may have been a long road, but you'll have the closest thing to real teeth.
If you would like more information on implant restorations, please contact us or schedule an appointment for a consultation. You can also learn more about this topic by reading the Dear Doctor magazine article "New Teeth in One Day."
By John Chaney, D.D.S.
June 10, 2020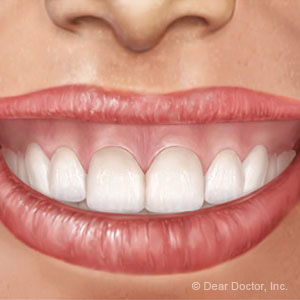 What makes a beautiful smile? Beautiful teeth, for sure. But there's also another component that can make or break your smile, regardless of your teeth's condition: your gums. Although their primary function is to protect and stabilize the teeth, your gums also enhance them aesthetically by providing an attractive frame.
But just as a painting displayed in an oversized frame can lose some of its appeal, so can your smile if the size of your gums appears out of proportion with your teeth. Normally, a smile that displays more than four millimeters of gum tissue is considered "gummy."
There are some things we can do to improve your gum to teeth ratios. What we do will depend on which of the following is the actual cause for your gummy smile.
Excess gum tissue. We'll start with the obvious: you have excess gum tissue that obscures some of the visible tooth crown. We can often correct this with a surgical procedure called "crown lengthening," which removes some of the excess tissue and then reshapes the gums and bone to expose more teeth length.
Teeth that appear too short. The problem may not be your gums — it could be your teeth appear too short. This can happen if the teeth didn't erupt fully, or if they've worn down due to aging or a grinding habit. One option here is to "lengthen" the tooth cosmetically with veneers, crowns or other bonding techniques.
Higher lip movement. Rather than your teeth and gums being out of size proportion, your upper lip may be rising too high when you smile, a condition known as hypermobility. One temporary fix is through Botox injections that paralyze the lip muscles and prevent their movement from overextending. We could also use periodontal surgery to perform a lip stabilization procedure that permanently corrects the upper lip movement.
Overextended jaw. Your gums may seem more prominent if your upper jaw extends too far down and forward. In this case, orthognathic (jaw straightening) surgery might be used to reposition the jaw relative to its connection with the skull. Setting the jaw up and back in this way would reduce the prominence of the gums when you smile.
As you can see, treatments range from cosmetic techniques to moderate surgical procedures. A full dental exam will help determine which if any of these measures could reduce gumminess and improve your smile.
If you would like more information on correcting gummy smiles, please contact us or schedule an appointment for a consultation. You can also learn more about this topic by reading the Dear Doctor magazine article "Gummy Smiles."