Posts for: November, 2016
By John Chaney, D.D.S.
November 23, 2016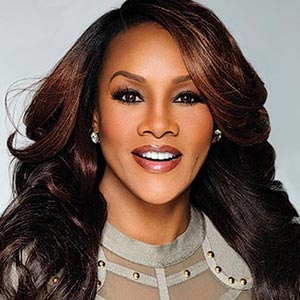 What's an actor's most important feature? According to Vivica A. Fox, whose most recent big-screen role was in Independence Day: Resurgence, it's what you see right up front.
"On screen, your smile and your eyes are the most inviting things that bring the audience in" she said. "Especially if you play the hot chick."
But like lots of people, Vivica reached a point where she felt her smile needed a little help in order to look its best. That's when she turned to a popular cosmetic dental treatment.
"I got veneers years ago," Ms. Fox told Dear Doctor magazine in a recent interview, "just because I had some gapping that probably only I noticed."
What exactly are dental veneers? Essentially, they are thin shells of lustrous porcelain that are permanently attached to the front surfaces of the teeth. Tough, lifelike and stain-resistant, they can cover up a number of defects in your smile — including stains, chips, cracks, and even minor spacing irregularities like the ones Vivica had.
Veneers have become the treatment of choice for Hollywood celebs — and lots of regular folks too — for many reasons. Unlike some treatments that can take many months, it takes just a few appointments to have veneers placed on your teeth. Because they are custom made just for you, they allow you to decide how bright you want your smile to be: anywhere from a natural pearly hue to a brilliant "Hollywood white." Best of all, they are easy to maintain, and can last for many years with only routine care.
To place traditional veneers, it's necessary to prepare the tooth by removing a small amount (a millimeter or two) of its enamel surface. This keeps it from feeling too big — but it also means the treatment can't be reversed, so once you get veneers, you'll always have them. In certain situations, "no-prep" or minimal-prep veneers, which require little or no removal of tooth enamel, may be an option for some people.
Veneers aren't the only way to create a better smile: Teeth whitening, crowns or orthodontic work may also be an alternative. But for many, veneers are the preferred option. What does Vivica think of hers?
"I love my veneers!" she declared, noting that they have held up well for over a decade.
For more information about veneers, please contact us or schedule an appointment for a consultation.
By John Chaney, D.D.S.
November 08, 2016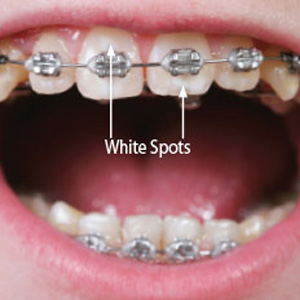 Braces can be a long, involved process, but gaining a more attractive smile and better oral health is worth it. Sometimes, though, braces can produce unintended short-term consequences.
Brace brackets and wires do the work of moving teeth to better positions. They can, however, hinder the wearer's hygiene efforts to remove plaque, a thin film of bacteria and food particles, from tooth surfaces. Plaque buildup increases the risk of dental disease and other ill effects.
One such effect while you're wearing braces is the formation of tiny spots that look pale and chalky on otherwise smooth and polished enamel. These are white spot lesions (WSLs), where acid has remained for too long on the tooth enamel. They occur because acid-producing bacteria escape removal during brushing and flossing due to the braces hardware.
We want to try to prevent WSLs while wearing braces, and not just because they're unattractive. You're actually looking at enamel erosion, which could lead to cavity development at those weakened spots.
Although difficult for you as a braces wearer, daily brushing and flossing is crucial to WSL prevention. You'll need to take more time to be sure you're reaching all around the wires and brackets. You can improve your effectiveness with special brushes for braces and floss threaders or water irrigators. You can also help keep acid levels low by cutting back on acidic foods and beverages, especially sodas, coffee or spicy foods.
Even if you develop WSLs we can treat them effectively, especially if caught early. One way is by aiding enamel re-mineralization through saliva stimulation (the mouth's acid neutralizer) or applying fluoride to the teeth to strengthen enamel. We can also use caries infiltration, a technique that injects tooth-colored resin below the surface of the lesion. This strengthens the weakened enamel and gives the area the appearance of translucence like normal enamel.
While you're wearing braces, focus diligently on keeping your teeth clean of plaque and keep up your regular cleaning visits with us. If you notice any unusual discolorations or abnormalities, see us as soon as possible. Stopping WSLs from developing will help ensure your teeth are healthy and attractive after the braces come off.
If you would like more information on dental care with braces, please contact us or schedule an appointment for a consultation. You can also learn more about this topic by reading the Dear Doctor magazine article "White Spots on Teeth during Orthodontic Treatment."