Posts for: March, 2015
By John Chaney, D.D.S.
March 24, 2015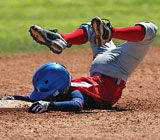 Every parent, caregiver, coach, sports fan and especially injured party dreads the moment when an injury to the mouth occurs during a sporting event. The first thought observers have after looking closely to see if it is their child or someone they know is, "I hope someone knows what to do!" Do you know what to do in case of a dental sports emergency? Test your dental injury IQ with this simple, quick quiz. The answers are listed at the bottom of this article.
Dental Injury IQ
If a tooth (including its root) is totally knocked out, what can you safely store it in while finding a dentist within 5 minutes of the injury?

Water or salt water
Milk (preferably cold)
Inside the cheek (mouth) of the injured person
All of the above

True or False: Immediately following the injury, fresh cold tap water or bottled water is the best way to remove debris from where a tooth was knocked out.
If a tooth has shifted from its original position following an injury, you should...

See a dentist within 5 minutes
See a dentist within 6 hours
See a dentist within 12 hours
Only see a dentist if the tooth is not better in a few days

True or False: You treat a knocked out baby tooth in the same manner as you do a permanent tooth.
The most important thing to do to save a tooth that has been completely knocked out of the mouth is to…

See a dentist as soon as possible
Replant the tooth within 5 minutes
Stop the bleeding before re-planting the tooth
Rinse the tooth with fresh, clean water
The Answers
1) d = all of the above, 2) true, 3) b = see a dentist within 6 hours, 4) false – baby teeth are typically not replanted, 5) b = replant the tooth within 5 minutes
Want To Learn More?
Contact us today to discuss your questions or to schedule an appointment. You can also learn more about treating dental injuries when you read the Dear Doctor article, "The Field-Side Guide To Dental Injuries." Or, you can download a FREE, pocket-sized guide for managing dental injuries.
By John Chaney, D.D.S.
March 09, 2015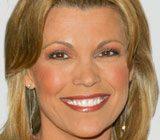 Here's an interesting tidbit of information on Wheel of Fortune host Vanna White: like many people, she grinds her teeth at night. In a detailed interview with Dear Doctor magazine, Vanna explained how she had to replace a filling in a back tooth several times because of her grinding habit. Eventually, she had her dentist make her a nightguard to protect her famous smile.
"I really try to sleep with it every night," Vanna told the magazine. "I try to keep it on my nightstand so when I go to bed, I remember to put it in. Or I will put it by my toothbrush so I can put it in after brushing my teeth at night."
The habit of teeth grinding or clenching is often associated with stress and/or sleep deprivation. It is referred to as "parafunctional" ("para" – outside, "function" – normal), meaning it can generate biting forces well outside the normal range — perhaps 10 times normal. This excessive force can affect many areas of the oral system. Teeth may become worn, chipped or loose; jaw joints or muscles can go into spasm; and some grinders (or "bruxers" as they are also called) may even experience discomfort of the head, ears, neck or back. Many times, a person with a grinding habit does not become aware of it until it is pointed out by a sleep partner or dental professional.
Like Vanna White's dentist, we often recommend a nightguard to those with nocturnal bruxing habits. It is made of a very thin, wear-resistant plastic that fits over the biting surfaces of the upper teeth only. The lower teeth are then free to glide or skate over the guard, which prevents them from biting into the upper teeth. Some people wear their guards during the day if they tend to clench their teeth when under stress.
If you are concerned about teeth grinding or interested in learning more about nightguards, please contact us today to schedule an appointment for a consultation. If you would like to read Dear Doctor's entire interview with Vanna White, please see "Vanna White." Dear Doctor also has more on "Stress & Tooth Habits."