Posts for: November, 2013
By John Chaney, D.D.S.
November 25, 2013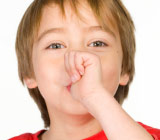 Are the following statements true or false?
Thumb sucking in children may cause problems with their teeth later on.
A: TRUE
Prolonged thumb sucking may be responsible for many problems with the bite. The constant pressure of the thumb itself can create a gap between the top and bottom teeth in front, a condition called an "open bite." It also reinforces the habit of using the "tongue thrust" motion in swallowing, where the tongue is positioned between top and bottom teeth. This habit may also block full eruption of the front teeth.
Infants and young children swallow exactly the same way that adults do.
A: FALSE
When they swallow, young children use what is called the "infantile swallowing pattern." In this method, which begins before their teeth have erupted, the tongue is thrust forward in the mouth, sealing and supporting the lips. In adult swallowing, the tongue touches the roof of the mouth, behind the front teeth. The transition from the infantile method usually happens naturally, by around age 4.
Most open bites result from the habit of positioning the tongue too far forward.
A: TRUE
Failure to transition between the infantile and adult swallowing pattern is believed to be the cause of most open bites. The tongue's position alone may prevent the front teeth from fully developing. Allowing the thumb to rest between the teeth has the same effect — and it can also push the front teeth forward. Other causes of an open bite are skeletal or jaw-related problems.
It is harder to cure open bites caused by thumb sucking or bad tongue position than those from other causes.
A: FALSE
Open bites that are caused by skeletal factors (patterns of bone growth, etc) are often difficult to resolve. Those caused by dental factors (tongue position, tooth eruption, etc) are generally easier to fix. However, the pressure exerted by the thumb over a long period of time can influence bone growth in the jaw.
There is a dental appliance that can help discourage thumb sucking.
A: TRUE
A thin metal "tongue crib" placed behind upper and lower incisors discourages the thumb-sucking habit. It also helps to "re-train" the tongue, keeping it from going between upper and lower teeth. To successfully treat an open bite caused by dental factors, and to prevent its reoccurrence, it is essential to eliminate the unhelpful habits of both the thumb and the tongue.
If you would like more information about thumb sucking or open-bite problems in children, please contact us or schedule an appointment for a consultation. You can also learn more about this topic by reading the Dear Doctor magazine article "How Thumb Sucking Affects The Bite."
By John Chaney, D.D.S.
November 15, 2013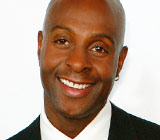 As a Pro Football Hall of Famer and first runner up on the hit television show Dancing with the Stars, Jerry Rice has a face and smile that truly has star quality. However, that was not always the case. During an interview with Dear Doctor magazine, the retired NFL pro discussed his good fortune to have had just a few minor dental injuries throughout his football career. He went on to say that his cosmetic dentist repaired several of his chipped teeth with full crowns. Rice now maintains his beautiful smile with routine cleanings and occasional tooth bleaching.
If you have chipped, broken or missing teeth, or are considering a smile makeover, we want to know exactly what you want to change about your smile, as the old adage is true: Beauty is in the eyes of the beholder. This is one reason why we feel that listening is one of the most important skills we can use during your private, smile-makeover consultation. We want to use this time to ensure we see what you see as attractive and vice versa so that together we can design a realistic, achievable blueprint for your dream smile.
For this reason, we have put together some questions you should ask yourself prior to your appointment:
What do you like and dislike about the color, size, shape and spacing of your teeth?
Do you like how much of your teeth show when you smile and when your lips are relaxed?
Are you happy with the amount of gum tissue that shows when you smile?
Do you prefer a "Hollywood smile" with perfectly aligned, bright white teeth, or do you prefer a more natural looking smile with slight color, shape and shade variations?
To learn more about obtaining the smile you want, continue reading the Dear Doctor magazine article "Great Expectations — Perceptions In Smile Design." Or you can contact us today to schedule an appointment so that we can conduct a thorough examination and discuss your cosmetic and restorative dentistry treatment goals. And if you want to read the entire feature article on Jerry Rice, continue reading "Jerry Rice — An Unbelievable Rise To NFL Stardom."