Posts for: September, 2013
By John Chaney, D.D.S.
September 23, 2013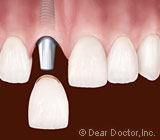 As dental implants increase in popularity, the surgical procedures to install them are becoming quite commonplace. Still, many people are nervous about this procedure, perhaps not really knowing what to expect. So if you're considering dental implants, here's a rundown of what happens before, during and after the procedure.
Dental implants are actually a tooth root replacement system. A post made of titanium is inserted into the jaw bone at the site of the missing tooth. Because of titanium's bone-friendly molecular structure bone cells naturally gravitate to its surface; over time the inserted post and bone will fuse. After a few weeks of this process, the post will be ready for a porcelain crown, bridge or overdenture to be attached to it.
Before the implant surgery you will undergo a complete dental exam. Everything is planned out in advance so that we know the exact location along the jaw to place the implants. In many cases we create a surgical template that can be used during surgery to identify these precise locations.
The procedure itself is painless for most patients, requiring only a local anesthesia. The procedure begins with small incisions in the gum tissue to allow us to see the precise point in the bone for the implant. We then create a small hole in the bone, using a drilling sequence of successive larger holes until we've achieved the best fit for the implant (during drilling you may experience a mild vibration). We then remove the implants from their sterile packaging, place them immediately into the drilled hole, then stitch the gum tissue back into place.
After surgery, most patients encounter only a mild level of discomfort for a day or two. This can be managed by prescription doses of common pain relievers like aspirin or ibuprofen, although we will use surgical strength ibuprofen. Rarely do we need to prescribe something stronger.
Once the implant fuses permanently with the bone, we then affix the final crown or other dental device in a painless procedure. This final step will give you back not only the use of your teeth, but a more appealing smile as well.
If you would like more information about dental implant surgery, please contact us or schedule an appointment for a consultation. You can also learn more about this topic by reading the Dear Doctor magazine article "Dental Implant Surgery."
By John Chaney, D.D.S.
September 13, 2013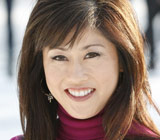 If Kristi Yamaguchi's kids inherit her figure skating ability, they might just be headed for the Olympics — after all, their mom won the gold medal for figure skating in the 1992 games. When it comes to teeth, however, she wouldn't mind if they inherited her spouse's instead. "My husband [fellow Olympian turned pro hockey player Bret Hedican] never had braces," she recently told an interviewer. "I'm hoping they get his teeth."
When you look at the elegant skating star's pearly smile, you'd never suspect she had dental problems. In fact, Kristi had four permanent teeth extracted to relieve the crowding in her mouth. She also wore braces to correct irregularities in both upper and lower teeth. Could orthodontics work the same "magic" for your kids — or yourself?
It just might. The first step toward finding out is having an orthodontic evaluation. For kids, the right time for an initial evaluation is no later than age 7. By then, the first molars are usually present and your child's bite pattern is establishing. Even though treatment may not begin for several more years, it's helpful to know what problems may arise in your child's individual situation — and to start treating them at just the right time.
Orthodontics has progressed a great deal in the two decades since Yamaguchi's braces came off. Today, small devices called palatal expanders are often used to create more space in the mouth, as an alternative to tooth extraction. There are also many new options for orthodontic appliances, in addition to standard metal braces. These include unobtrusive tooth-colored braces and lingual braces, which are applied to the tongue side of the teeth and can't be seen. In some cases, clear plastic aligners can be used instead of braces, for a look that's almost invisible.
Adolescence is often the preferred time to do orthodontic treatment. By then, the permanent teeth have mostly come in, but there's still some growing left to do. But age isn't a factor that should stop you from getting the smile you've always wanted. About one in five orthodontic patients today is an adult — and those less-visible appliances can fit in well with the more "professional" image of an older person.
Orthodontics can't help make someone an Olympic athlete — only lots of talent and practice can do that. But it can make a big difference in a person's appearance. "Once my braces came off, it was like — Wow! That looks so much nicer," Yamaguchi recollected. And today, the mother of two, author, and philanthropist sports the same appealing smile she had on the podium at the Albertville Olympic Games.
If you would like more information on how orthodontics could help you get the smile you've dreamed about, please contact us or schedule an appointment for a consultation. You can also learn more about this topic by reading the Dear Doctor magazine articles "Early Orthodontic Evaluation" and "The Magic of Orthodontics."